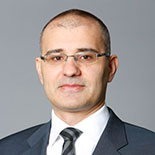 Thanks for stopping by.
My name is Nenad Noveljic. I am a database specialist based in Switzerland. In the last couple of years I have focused on designing and continuously improving a private cloud for Oracle databases, in order to reduce total cost of ownership, streamline provisioning processes and improve performance for both transactional and data warehouse databases. I have been using object-oriented Perl and agile development methodology for automating database administration tasks.
Please visit my LinkedIn profile to find more information about me: LinkedIn or follow me on Twitter Twitter .
I hope you will enjoy reading and find some useful content here.